Ferodo extends its experience and pedigree to the bicycle world. Pioneering research and development, bold engineering and extensive road and track testing ensure performance, safety and reliability.

RACING TECHNOLOGY
Ferodo has been at the forefront of vehicle racing for over 90 years and we have used all this know-how in the development of our bicycle brakes. Ferodo brakes are developed to excel in the four phases of braking.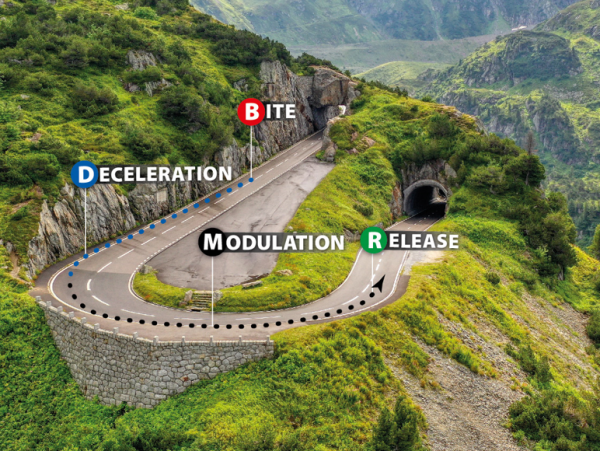 Phase 1: initial Bite

This is how quickly the brakes reach their operating torque.
A racer wants to feel the brakes "bite" instantaneously when pulling the lever.

Phase 2: Straight-line Decelartion
Most of the deceleration needs to be made when the bicycle is travelling in a straight line when tyre grip is at a maximum. In this phase the rider wants the highest possible brake efficiency (deceleration for a given lever pressure.) The brake pad's coefficient of friction (μ) represents this efficiency. The higher the coefficient of friction of the pad, the lower the lever force required to decelerate.

Phase 3: Modulation Phase
μ - The friction coefficient - can be affected by a number of factors including disc temperatures, brake disc rubbing speeds and clamping forces. Ferodo develops their brake pads to provide consistency during these changing operating conditions. This is key to the brakes performing well in the final phase of braking, when disc temperatures increase and rubbing speeds reduce. This is known as the modulation phase. A pad with good modulation maintains a linear relationship between lever pressure and deceleration, which means the brake is more "predictable." This is extremely important as the tyres will often have reduced longitudinal grip (as the bike turns) - and so be easier to lock - during this final phase.

Phase: Release

At the end of the braking event, when lever pressure is released, it is important that the brake pads release instantaneously from the disc and then cause low residual brake drag. When the brakes are not being used it's very important that pad-disc contact is at a minimum. This keeps drag at a minimum and hence speed at a maximum. Our bicycle brakes are designed to achieve this. Over 90-plus years of racing we have learned how to measure these four phases objectively and effectively. Ferodo only release parts to market that perform exceptionally in all four of the braking phases.
DEVELOPED FROM THE LAB TO THE TRACK
Our numerous dynamometers can simulate any type of braking condition. From a tough mountain descent to E-Bike urban riding, we use them to measure objectively how the brakes perform.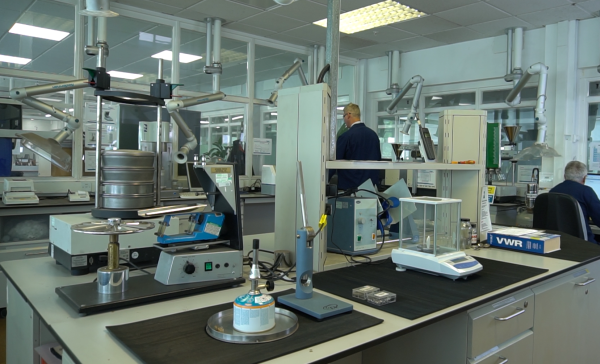 Once we are confident that a material ticks all the boxes, we start bicycle testing. Our bikes are instrumented to measure multiple parameters such as deceleration, pressure, temperatures, and lever travel.
The bicycle brake pads come from the start in 2 versions, an all-round version suitable for a wide range of applications, and one specifically designed for E-bikes.
ECE-R90 HOMOLOGATION
Our brake pad materials designated for road-use are ECE R90 certified.
This means that they have been tested by an authorised third-party testing centre and have been judged to perform, in a series of defined tests, similarly to the original equipment pads.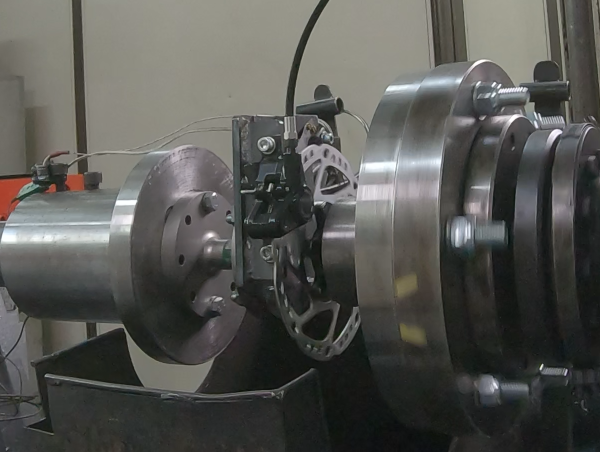 ENVIRONMENTAL COMMITMENT
Our brake pads are manufactured in our Spanish friction plant to strict European standards concerning the choice of raw materials.

We reduce part consumption by placing a very high importance on product longevity.
We have developed our packaging to minimize the use of plastic
FOLLOW US on Facebook and YouTube

On our Facebook and YouTube channels we provide useful tips, best practices, current offers and exciting background information. Convince yourself and visit us on both channels!
Social Media

Ferodo
Ferodo Racing