We reached our goal when you stand still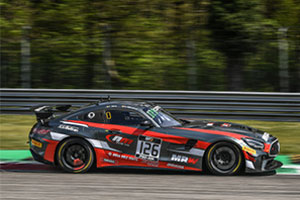 Since 1897, performance and quality have been a tradition at Ferodo - always with the goal in mind to ensure safe and reliable braking anytime, anywhere. In developing high-performance braking products and special technologies, innovative solutions are constantly sought in our own production facilities and research and development facilities. In addition, all products undergo rigorous testing in laboratories and on test tracks - for "real world" results. This is the only way to guarantee safe and comfortable driving as well as unrivalled performance even under extreme conditions.
The latest technical advancements in Ferodo brake pads not only bring vehicles to a halt, but also impress with significantly less noise in normal service, and at optimum braking performance.
Braking quieter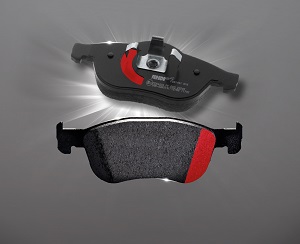 Directional or asymmetrical brake pads have been specially developed to control and minimize brake noise, vibration and harshness (NVH) during braking. These brake pads have special secondary measures for this purpose, such as a bevelled edge, a so-called chamfer, on the friction material or a damping plate (anti-noise shim) with an arc-shaped cut-out.

Directional brake pads with chamfer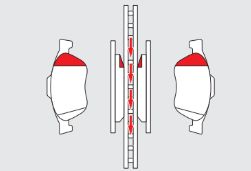 The chamfer on directional brake pads allows a flat transition between the friction surface and the brake disc, avoiding sharp edges. When braking is initiated, the brake pad contacts the brake disc at a specific angle. This prevents the leading edge of the brake pad from being lifted off the brake disc. The braking force therefore presses "obliquely" on the pad and disc, which ensures uniform wear and reduces braking noise while maintaining consistently high braking power. In addition to the previously common parallel chamfers, the brake pads from Ferodo are now also available with radial chamfers. This causes/has the advantage has the advantage leading to a stable wear, improving the driving comfort and creating a constant braking performance.
Directional brake pads with arc cut-outs

Another huge improvement in terms of noise reduction are anti-noise shims, which act as vibration dampers and are attached to the backing plate on the back of the brake pads. They reduce - as the name suggests - vibrations, act as thermal insulation and thus ensure an even temperature distribution over the entire pad. In the case of Ferodo brake pads, the damping plates have also been provided with an arc-shaped cut-out. This changes the pressure position of the brake pad, which also reduces brake noise, enables even wear, improves ride comfort and ensures constant braking performance.
Squealing, screeching, rubbing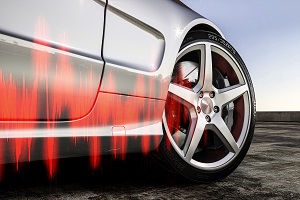 But the fact is: even the highest quality brake pads cannot do their job satisfactorily if installation has not been done correctly or if other parts of the braking system are of inferior quality or damaged. The result is brake noise - one of the most common reasons for a workshop visit.
Vibrations in the brake system are normal. However, if they cause audible noises, there is often a more complex problem behind them. This can be incorrectly installed brake pads, uneven brake discs or even damage to carrier plates. It is therefore worth taking a look at the manufacturer's instructions when installing the brake pads. Important: In contrast to older vehicles, brake pads and brake discs should ideally always be replaced at the same time on newer vehicles.