Introducing FERODO Fuse+ brake pads, where performance meets comfort

When you have a free minute or two, open your Internet search engine and enter the following: "Find the perfect brake pad."
Next, enter "Find the perfect tire."
What this exercise will tell you is that identifying the ideal brake pad or tire for your vehicle is a lot harder than you might have imagined. Some online sources offer "decision guide" designed to help vehicle owners identify a series of product features and corresponding set of characteristics that could provide the braking performance you are looking for.
Your tire query will likely result in a seemingly endless journey through tread patterns, rubber compounds and other characteristics that make one type of tire different from another. But which is the "perfect" tire for your vehicle? Good luck. You'll need to spend hours online combing through the thousands of opinions offered by tire companies and others who want to influence your decision.
Mind the Gap

The truth of the matter is that many product categories – including brakes, tires and other vehicle components – present seemingly unbridgeable gaps that require customers to choose between one set of desirable benefits and another.

In tires, for example, customers are often asked to choose between long tread life (requiring comparatively hard, rougher-riding rubber compounds) and premium comfort and handling (softer compounds).
A similar dynamic has long confronted customers purchasing replacement brake pads. In European markets, drivers preferring superior stopping performance have had one choice of friction material, low steel, which due to the higher friction coefficient might compromise on wear, comfort and wheel dust generation. For drivers seeking pads with greater "comfort" characteristics, including reduced noise, longer pad/disc life and lower dusting, the choice has traditionally been limited to non-asbestos organic (NAO) friction materials. These materials, which are preferred by many North American and Asian automakers, can deliver a lower friction coefficient hence generally not the same stopping power as low steel formulation especially in extreme conditions. And stopping is what brakes are all about, right?
It's too bad someone can't bridge the gap between performance and comfort to deliver a brake pad that offers a truly superior overall customer experience – without compromises.
Well, someone finally has. And it's from the brand you'd most likely expect: FERODO®.
Introducing Fuse+ Technology

FERODO, which in 1922 became the first supplier to provide original equipment friction linings for a mass production car and in 1956 invented the disc brake pad, has introduced its latest innovation: Fuse+ Technology brake pads, the first automotive pads to bridge the gap between outstanding braking performance and high-end comfort. Low-steel or NAO? Now you can simply choose the one pad that offers the best of both worlds.
Engineered In the FERODO Chapel-en-le-Frith Tech Center in the UK, and manufactured to OE standards in FERODO's class-leading sites in Europe, Fuse+ brake pads feature a highly advanced new friction material – developed over a period of three years – that combines the trusted, high-performance braking power of low-steel formulations and the comfort-intensive characteristics of NAO materials. These pads also include a unique combination of over 20 precisely selected components, backed by 3 years of dedicated engineering and 75 materials tested, that work in concert to deliver unsurpassed braking performance without the traditional drawbacks such as noise, reduced pad and disc life and excessive dusting. As an added benefit, Fuse+ technology pads also include FERODO's exclusive zero-copper Eco Friction Technology, which further reduces dusting and cuts pad emissions by 60 percent.
Genuine OE matching Quality

Fuse+ Technology pads extend the FERODO brand's 125-year history of game-changing innovation and continue the brand's heritage of bringing OE braking technologies, quality and performance to the aftermarket. Today FERODO product engineers continue to explore new material formulations, pad designs and other innovations to address emerging needs among the world's leading automakers and workshop professionals.
Bridging gaps in brake pad technology also means leveraging the unique insight, testing protocols and manufacturing processes of OE matching quality brake pads with excellent performance in the replacement market. As a premier OE provider for 100 years, Tenneco (FERODO' parent company) has consistently developed innovative products that thrive in all environments, regardless of vehicle age. What this means to consumers is added confidence that their vehicles will offer safe, reliable, quiet, long-lasting stopping performance. For workshop professionals, it means less time explaining the trade-offs between low-steel and NAO formulations and fewer customer complaints related to stopping performance, noise, pedal feel and/or dusting.
100 Models and Growing

FERODO Fuse+ Technology brake pads are available immediately for many premium-level vehicle models from Europe's premier automakers, including Audi, BMW, Mercedes-Benz and Volkswagen. Each set of pads is packaged complete with all required safety accessories to ensure fast, easy installation. If your vehicle isn't covered, don't worry – the range of FERODO Fuse+ brake pads will continue to grow to meet market demand.
Protect the 'System'

Brake pads are among the most commonly replaced parts on any vehicle. What you might not realize, however, is that pads rely on an array of other precisely engineered components to properly do their jobs. For example, a modern brake system includes the pads, discs, master cylinder, brake lines and hoses, fluid, booster, calipers and pistons, anti-lock brake system (ABS) control module, wheel speed sensors and more. Many of these components are engineered for a perfect match when installed together.
For best performance, FERODO brake pads, including new Fuse+ Technology pads, should be paired with high-quality FERODO brake discs. A non-FERODO disc might feature significantly lower-quality metallurgy and substandard machining which both could negatively impact heat dissipation, pad and disc durability, pedal feel, operating noise and safety.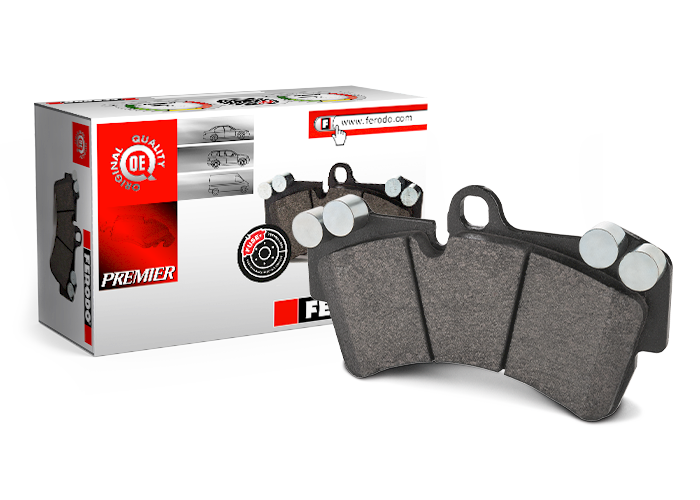 Other drawbacks of "cheap" discs can include overly wide ventilation gaps resulting from the manufacturers' desire to use thinner, less expensive disc plates. Unfortunately, these discs might not cool as efficiently as FERODO discs, potentially leading to heat-induced "brake fade" and accelerated pad wear. In extreme situations, excessive heat can even cause failure of other wheel-end components and, in a worst-case scenario, wheel-end fires, or the collapse of the braking system.
So even if a less expensive brake disc has a similar appearance to a quality product, best practice is to select the disc recommended by FERODO for each corresponding vehicle.
The content contained in this article is for entertainment, informational and promotional purposes only and should not be used in lieu of seeking professional advice from a certified technician or mechanic. We encourage you to consult with a certified technician or mechanic if you have specific questions or concerns relating to any of the topics covered herein. Under no circumstances will we be liable for any loss or damage caused by your reliance on any content.