What makes a great brake pad?
Creating high-quality, long-lasting brake pads that provide safe and reliable braking on the road takes a lot of care and attention to intricate details. In-house production along with careful quality control and product testing are absolute musts to ensure top of the line quality. Want to know which small things make the biggest difference? These four requirements make our top of the list as product fundamentals.
The mix or recipe of the friction material should take into account the size, weight and top speed of the specific vehicle its placed on to brake efficiently at all speeds

Quality clips and springs help hold the brake pad in the caliper
A secured bond between the back plate and friction material, the last thing you want is friction material coming off the back plate
The anti-noise features of the shims to keep vibrations and noise down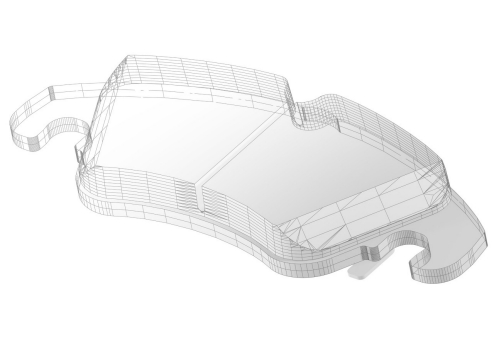 Brake discs 101: your handy checklist
Another vital part of an optimal braking system is your brake disc or rotor. Combined with the brake pad, it generates the brake torque. This force is transmitted to the wheel hub and onto wheel rim. During braking, the vehicle's kinetic energy is converted into thermal energy, enabling an effective reduction in speed. Did you know that during downhill driving, the friction ring of brake discs can reach red hot temperatures of up to 700°C? Be sure to take into account these three tools of measurement to ensure you're dealing with quality parts fit for daily use on the road.
The metal itself and the casting process: air pockets or poor-quality metal could reduce the ability to create friction
The machining process, which shapes the disc correctly and evenly
A good ventilation system that allows the heat generated to dissipate
Engineering brake pads: A 12-step process
From raw material to fully functioning brake pad, developing efficient friction products is a streamlined process filled with timely check-ups, tests and rigorous lab to track exercises. Find out which steps of the production process come into play when creating high-quality braking pads made to last on the road.
Engineers lab-test and select the right combination of raw materials to produce the highest quality formulation.
Engineers will start tweaking friction materials and pad design for the best Noise, Vibration and Harshness (NVH) performance. This may involve adding chamfers and slots.
The backing plate is stamped. Large coils of steel are oiled and pickled to prevent corrosion. The dimensions are checked.
Special features like pins and friction material retention devices are machined.
The backing plate is blasted and washed to remove imperfections.
The friction material components are measured and placed in a special mixer.
The mixture is moulded into pucks pressed and moulded onto backing plates.
The backing plates are placed in a mould with friction materials on top.
The brake pads are placed in oven to cure. This heat will activate and solidify resins, binders and other ingredients. This means consistent performance over the lifetime of the pad.
The chamfers and slots are cut into pads. It will be ground to correct height.
The pads are scorched with extreme heat and pressure.
The pads are coated with a high-temperature spray paint or powder. Some pads will use plating on the back plate.
How in-house production makes the difference
In-house engineering, testing and validation all make a huge difference in product quality, consistency and control when creating friction products, especially on a larger scale. A meticulously controlled, streamlined process backed up by top of the line machinery differentiates regular braking products from premium braking products sporting a longer life span, higher build-quality and more wear resistance after intensive usage. The benefit for the brake pad manufacturer lies in the fact that he knows exactly how his friction products are developed from A to Z, and in which condition they leave the production plant. But the biggest plus? Reliability. Every distributor, installer, supplier or end-consumer can be sure of the consistent quality of each and every product from that specific manufacturer.  
However, not every brake pad producer puts this theory into practice: controlling such a high-end production process demands a lot of check-ups, lab to track testing and significant in-house dedication. Unlike many other brake pad manufacturers on the market, Ferodo® develops, tests and validates brake pads in its own dedicated test centres in Germany and the UK. The official Ferodo® marking on our products ensures you're enjoying a high-quality product. All so you know you're holding products in your hands designed, tested and validated to go great lengths.  

Ferodo®: for A WIDE offer in braking
Whether for commercial or racing use, Ferodo's expertise in making high-quality brake pads, has led us to supply a broad range of high-quality brake-related products with a catalogue ranging from brake pads, brake discs and hoses to hydraulics, brake fluids, shoes and kits. By working with almost all major vehicle manufacturers around the globe, we continuously expand our offer globally to maintain unrivalled coverage of the aftermarket.
Brake pads: leading coverage 

OE quality formulations 
OES accessories 
Anti-noise features 
Brake discs: leading Coverage 

Improved driver safety
Prolonged durability 
Perfect match with Ferodo® pads 
Brake fluids & hydraulics: leading coverage 

Optimal design and specific formulations to guard against brake fail in any system 

Lined Shoes & Maxikits
Over 650 parts available 
Easy and fast repair 
Accessories