Powerful braking for electric and hybrid cars
ECO-FRICTION® is a perfect fit for electric and hybrid cars.
ELECTRIC AND HYBRID ENGINEERING:
A PERFECT FERODO FIT

Rigorously tested in the lab and in the field, the breakthrough green brake pad technology of ECO-FRICTION® is easily fitted to electric and hybrid vehicles.
The standard ECO-FRICTION® brake pads rise to all the challenges electric and hybrid cars bring. Resulting in a much tougher brake pad, that's soft on the environment.
When you go 100% electric, you'll want brake pads that follow 100% as well.
5 years of dedicated research resulted in a greener best-in-class* technological breakthrough, that's easily fitted to any electric or hybrid vehicle.
ECO-FRICTION® brake pads are a marvel of modern-day engineering.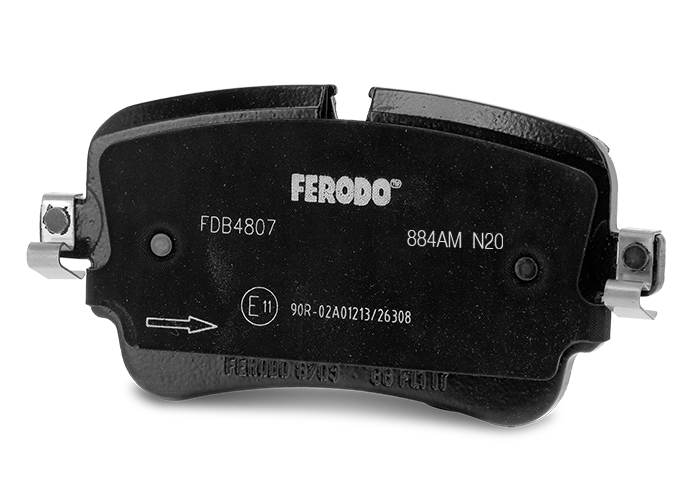 WHAT'S IN IT FOR YOU?

A top-quality brake solution for electric and hybrid vehicles. Even better: no extra stock or research is required by you.
READY TO MEET THE CHALLENGES OF NEW TECHNOLOGY!
The performance of ECO-FRICTION® brake pads in stopping heavier electric and hybrid cars - due to the weight of the batteries - is unparalleled, resulting in a safe and smooth driving experience.
Noise suppression
Increased safety
Best-in-class* performance results
More stopping power than competing brands on selected vehicles, making the ECO-FRICTION® pad the best product with technical innovation already approved and adopted by vehicle manufacturers.

CHOOSE TO GO ALL-IN FOR NATURE WITH ECO-FRICTION®
Green materials for a greener product
A significant reduction of fine particles emissions

FITTED TO PREMIUM CAR BRANDS
First to market, and leader in performance, Ferodo covers +95%+ of the electric car park. Fitted as OE on Audi, BMW, Honda, Jaguar, Porsche, Tesla, VW, and many other hybrid and electric cars.
*Based on our test results from 26/10/2018, conducted by Federal-Mogul Motorparts Chapel, UK and Barcelona, Spain test centres between our product and 4 competitors.
+Car parc coverage according to TecDoc data and Headline
QUICK LOOK BENEFITS
EASY TO FIT
The standard ECO-FRICTION® brake pads meet the requirements for electric and hybrid cars. So, no extra stock, logistics or search for the right pad is required for the installer and distributor.
SAFE
ECO-FRICTION® brake pads are carefully tested in the lab and on the track, for greater stopping power, in all weather conditions.
GREENER
ECO-FRICTION® technology now makes Ferodo a leading supplier of greener braking pads. When you choose to drive environmentally friendly, you should choose to brake for nature too.
Find parts for a previously entered vehicle
| Engine | MotNr | Fuel Type | Bore | Stroke | Cylinders | CC | kW/PS | Aspiration | Valves |
| --- | --- | --- | --- | --- | --- | --- | --- | --- | --- |
| {{ engine.make }} {{ engine.code }} | {{ engine.tecdoc_id || "-" }} | {{ engine.fuel_type || "-" }} | {{ formatPreciseValue(engine.bore) || "-" }}mm | {{ formatPreciseValue(engine.stroke) || "-" }}mm | {{ engine.cylinder_count || "-" }} | {{ maxAndMin(engine.cc_tech_range) || "-" }} | {{ maxAndMin(engine.kw_range) || "-" }} / {{ maxAndMin(engine.hp_range) || "-" }} | {{ engine.aspiration_type || "-" }} | {{ engine.valve_count || "-" }} |
Part Finder

Find parts for a previously entered vehicle

| Engine | MotNr | Fuel Type | Bore | Stroke | Cylinders | CC | kW/PS | Aspiration | Valves |
| --- | --- | --- | --- | --- | --- | --- | --- | --- | --- |
| {{ engine.make }} {{ engine.code }} | {{ engine.tecdoc_id || "-" }} | {{ engine.fuel_type || "-" }} | {{ formatPreciseValue(engine.bore) || "-" }}mm | {{ formatPreciseValue(engine.stroke) || "-" }}mm | {{ engine.cylinder_count || "-" }} | {{ maxAndMin(engine.cc_tech_range) || "-" }} | {{ maxAndMin(engine.kw_range) || "-" }} / {{ maxAndMin(engine.hp_range) || "-" }} | {{ engine.aspiration_type || "-" }} | {{ engine.valve_count || "-" }} |

Your Vehicle

Your Engine

| Engine | MotNr | Fuel Type | Bore | Stroke | Cylinders | CC | kW/PS | Aspiration | Valves |
| --- | --- | --- | --- | --- | --- | --- | --- | --- | --- |
| {{ engine.make }} {{ engine.code }} | {{ engine.tecdoc_id || "-" }} | {{ engine.fuel_type || "-" }} | {{ formatPreciseValue(engine.bore) || "-" }}mm | {{ formatPreciseValue(engine.stroke) || "-" }}mm | {{ engine.cylinder_count || "-" }} | {{ maxAndMin(engine.cc_tech_range) || "-" }} | {{ maxAndMin(engine.kw_range) || "-" }} / {{ maxAndMin(engine.hp_range) || "-" }} | {{ engine.aspiration_type || "-" }} | {{ engine.valve_count || "-" }} |

Your Part