With all the noise in the media around diesel emissions, and the focus on electric and hybrid electric vehicles, it's easy to forget there are other ways motoring can be made more eco-friendly. Your workshop can play its part, and still give customers the kind of high-performing products they want. 
With Ferodo ECO-FRICTION® brake pads, the clue is in the name. Developed to be more eco-friendly than traditional pads, they're also designed to provide the levels of braking friction that stop vehicles more quickly and more consistently, for longer.

Unlike traditional brake pads, ECO-FRICTION pads are made with zero- or low-copper, to reduce copper emissions. However, cutting-out copper doesn't cut braking performance in any way – and Ferodo have the test results to prove it.

In tests against 4 competitor pads, ECO-Friction proved to be more than a match across the board. 

All the pads were tested for:

Consistency of stopping power at varying speeds and extreme temperatures. ECO-FRICTION provided powerful stopping, and a performance that remained stable.* 


Stopping power in the wet and dry. ECO-FRICTION pads had very little variability in performance whatever the weather conditions – from bone dry to soaking wet.*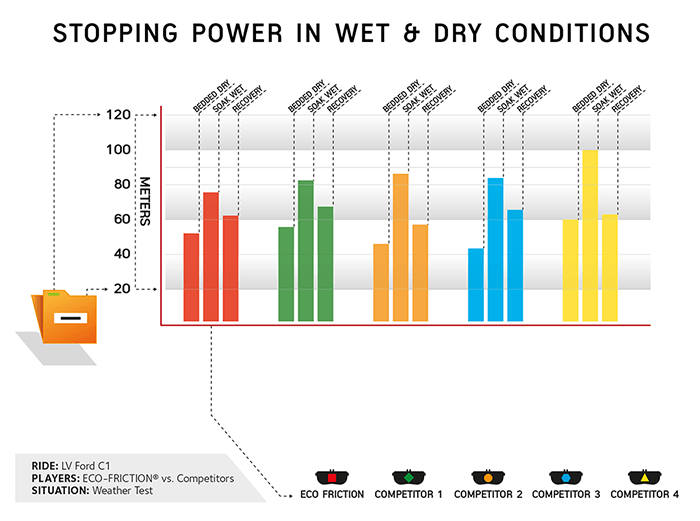 Comfort, noise and feel. With a consistent score of just above 8/10 across all three criteria, ECO-FRICTION led consistently.*


Life expectancy. In rigorous dynamometer testing,  ECO-FRICTION pads – built to OE quality standards – proved they'll last longer.*

Covering 98% of the European electric vehicle car parc**, FERODO ECO-FRICTION brake pads are the perfect choice for your customers who want to drive as green as possible and of course, they're also suitable for non-electric cars – as Mercedes-Benz and Audi have already proved by fitting them as Original Equipment on the C-Class since 2014 and the A4 since 2015. 
FERODO ECO-FRICTION: zero copper, zero downsides. 
*Tests conducted in Federal-Mogul Motorparts Chapel, UK and Barcelona, Spain test centers. Test results available upon request. (info@fmmotorparts.com)
**Car parc coverage according to Tecdoc data and Headline