Brake noise is one of the major reasons for a driver to visit a repair shop. It can be a complex issue and is often difficult to solve.
WHAT IS BRAKE NOISE?
Brake noise typically originates from vibration of a part within the wheel end section of the vehicle – between the tire and the connection to the chassis. Noise is often blamed on the brake pad itself, but can come from any part, from the wheel bearing to the ball joint. Within the brake system, it's normal to have some vibration, but it is not usually intense enough to be audible.
A. TYPES OF NOISE EXPERIENCED BY DRIVERS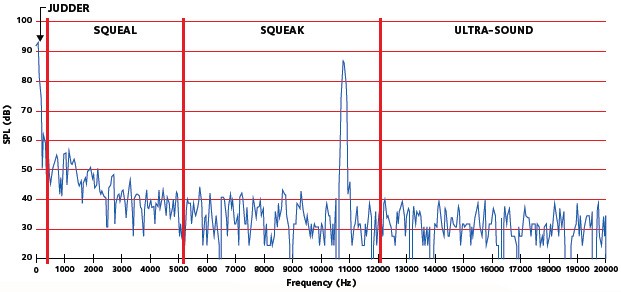 LOW FREQUENCY VIBRATIONS – JUDDER
DESCRIPTION: 
A deep noise with frequency below 300hz.
CAUSE
Poor tolerance (poor fitment on the hub or excessive disc thickness variation)
Rotor damage
SOLUTION
Replace the rotor and clean and lubricate all surfaces of the brake assembly according to the vehicle manufacturer's instructions.
MEDIUM FREQUENCY VIBRATIONS – SQUEAL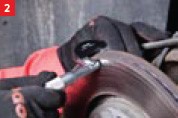 DESCRIPTION
Noise with frequency in the range 300 - 5,000 Hz.
CAUSES
Sticky movement on the caliper piston
Rough finish of the working surface of the rotor
Pad fitting errors
Hardware and shims are not installed properly
Disc thickness too low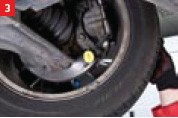 SOLUTION
Clean and lubricate components of the caliper
Ensure rotor surface finish (once fitted on to the hub) will stay within a tolerance of 0.1 mm
Clean the hub surface, machine rotor surface
Replace rotor and make sure brake pads, shims and accessories are fitted properly
Consider damping noise intensity with shims or brake pads with noise-reduction features
HIGH FREQUENCY VIBRATIONS – SQUEAK
DESCRIPTION

Noise with frequency higher than 5 kHz.
CAUSES
The most common reason for a squeak is a molecular vibration within the friction material during application to the brake rotor.
SOLUTION
Replace the brake pad set. Also check that the accessories (e.g. the caliper clips) are correct and properly fitted.
VERY HIGH FREQUENCY VIBRATIONS – ULTRASOUND
DESCRIPTION

Noise with frequency higher than 12 KHz, greater than the upper limit of human hearing.
B. FRICTION SURFACES GIVE VITAL CLUES
The appearance of the friction surfaces can give a good indication of the causes of noise problems. Jack up the vehicle, remove the pads and examine the friction surfaces to analyze potential problems. Below are five symptoms that relate to noise.
SYMPTOMS AND REMEDIES
TAPERED PADS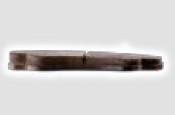 APPEARANCE: Uneven wear, tapered pads
CAUSE: Distorted caliper, caliper slides sticking, excessive caliper clearance
EFFECT: Premature pad wear, uneven braking pressure, noise
REMEDY: Replace pad set, maintain & service caliper
APPEARANCE: Uneven wear on pad surface
CAUSE: Irregularly worn rotor (a wear lip will be visible on the disc)
EFFECT: Squeal & judder, premature pad wear
REMEDY: Replace rotors and pads
APPEARANCE: One or more brake pad within the axle set will be excessively worn
CAUSE: Caliper guide pins or piston sticking
EFFECT: The vehicle pulls to one side while braking, uneven & rapid pad wear, squeal & judder
REMEDY: Maintain all caliper slides & pistons, replace pads. Check rotors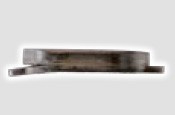 APPEARANCE: Damaged back plate

CAUSE: Incorrect assembly, excessive force used during fitting

EFFECT: Braking inefficiency, irregular wear, noise & judder

REMEDY: Replace full brake pad set
APPEARANCE: Anti-noise features (rubber-coat / shim) damaged by piston
CAUSE: Piston not retracting fully, heavy brake use
EFFECT: Overheating, noise
REMEDY: Replace brake pad set, maintain caliper