COMPOSITE discs FOR PREMIUM CARS
Less weight, less fuel consumption, less impact on the environment and a better handling experience.
NEW BRAKE DISC TECHNOLOGY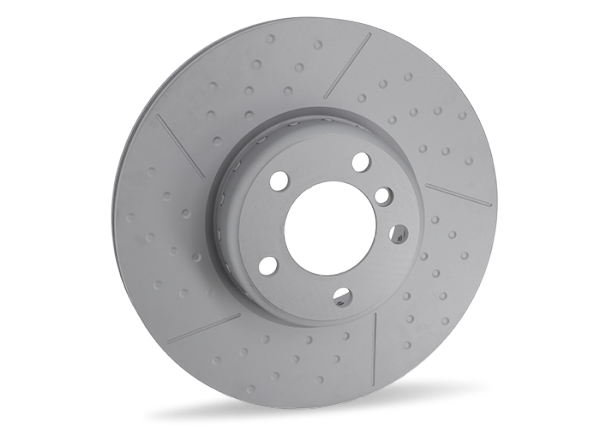 Ferodo composite brake discs provide enhanced vehicle efficiency and even greater stopping power. Up to 30% weight reduction of the disc results in a lower unsprung weight, which improves the handling of the car and lowers fuel consumption. Perfect for a premium driving experience.
The discs are made out of a high carbon cast iron surface and aluminium bell. They are produced to the highest OE standards and are quality checked and tested by Ferodo engineers.
Lower in weight for a better car handling and a lower fuel consumption.
High vibration damping helps eliminate brake noise and uneven pad wear.
Outstanding heat dissipation means no thermal deformation.
Perfect surface finish for quicker and smoother bedding, and shorter stopping distances.
Quality assured. Discs feature permanent edge markings for total traceability, even under the heaviest wear conditions.
Easy installation with inclusive positioning screw kit.
COAT+ technology eliminates de-greasing prior to installation, provides excellent corrosive protection (selected applications), and helps the discs stay looking at their best, perfect for open alloy wheels.
Quick Look Benefits
SAFE
Achieve minimal stopping distances when matched with Ferodo® brake pads
LIGHT
Reduced in weight for optimal handling of premium cars.
EASY
Quick and easy fitment on cars with composite discs fitted as OE, thanks to the included screw kit
Find parts for a previously entered vehicle
| Engine | MotNr | Fuel Type | Bore | Stroke | Cylinders | CC | kW/PS | Aspiration | Valves |
| --- | --- | --- | --- | --- | --- | --- | --- | --- | --- |
| {{ engine.make }} {{ engine.code }} | {{ engine.tecdoc_id || "-" }} | {{ engine.fuel_type || "-" }} | {{ formatPreciseValue(engine.bore) || "-" }}mm | {{ formatPreciseValue(engine.stroke) || "-" }}mm | {{ engine.cylinder_count || "-" }} | {{ maxAndMin(engine.cc_tech_range) || "-" }} | {{ maxAndMin(engine.kw_range) || "-" }} / {{ maxAndMin(engine.hp_range) || "-" }} | {{ engine.aspiration_type || "-" }} | {{ engine.valve_count || "-" }} |
Part Finder

Find parts for a previously entered vehicle

| Engine | MotNr | Fuel Type | Bore | Stroke | Cylinders | CC | kW/PS | Aspiration | Valves |
| --- | --- | --- | --- | --- | --- | --- | --- | --- | --- |
| {{ engine.make }} {{ engine.code }} | {{ engine.tecdoc_id || "-" }} | {{ engine.fuel_type || "-" }} | {{ formatPreciseValue(engine.bore) || "-" }}mm | {{ formatPreciseValue(engine.stroke) || "-" }}mm | {{ engine.cylinder_count || "-" }} | {{ maxAndMin(engine.cc_tech_range) || "-" }} | {{ maxAndMin(engine.kw_range) || "-" }} / {{ maxAndMin(engine.hp_range) || "-" }} | {{ engine.aspiration_type || "-" }} | {{ engine.valve_count || "-" }} |

Your Vehicle

Your Engine

| Engine | MotNr | Fuel Type | Bore | Stroke | Cylinders | CC | kW/PS | Aspiration | Valves |
| --- | --- | --- | --- | --- | --- | --- | --- | --- | --- |
| {{ engine.make }} {{ engine.code }} | {{ engine.tecdoc_id || "-" }} | {{ engine.fuel_type || "-" }} | {{ formatPreciseValue(engine.bore) || "-" }}mm | {{ formatPreciseValue(engine.stroke) || "-" }}mm | {{ engine.cylinder_count || "-" }} | {{ maxAndMin(engine.cc_tech_range) || "-" }} | {{ maxAndMin(engine.kw_range) || "-" }} / {{ maxAndMin(engine.hp_range) || "-" }} | {{ engine.aspiration_type || "-" }} | {{ engine.valve_count || "-" }} |

Your Part