Driving becomes more dangerous when it's wet. Not only is the road surface more slippery, but brakes are also less efficient. High quality friction material in brake pads is critical to maintaining maximum stopping power at all times.

COMPREHENSIVE TESTING DEMONSTRATES OUR PROMISE
At Ferodo, we carry out regular competitor tests to see how we compare with other brands. Each test reviews different qualities, such as dry stopping distance, wading troughs, emergency stop, handbrake testing, and noise, pedal feel and durability. Time after time, the results support our strong reputation and demonstrate our superior performance.
FERODO ADDS A WET BRAKING PERFORMANCE TEST
As wet conditions are particularly challenging, we have now introduced a sixth test for wet braking performance of Ferodo pads compared to a range of competitor products of varying levels of quality.
WET BRAKING CHALLENGE SHOWS BETTER STOPPING POWER
Water was sprayed directly on to the brake disc, as well as on to the road surface, to create the most realistic and consistent wet conditions for every brake setup. Each product was tested with 6 brake applications from 80 km/h to 0 km/h (50 to 0 mph).
The Results
The results confirm Ferodo's superior European original equipment (OE) quality, with a minimum reduction of friction level and reliable high performance in wet conditions. We are proud to bring you one of the best wet braking performances - keeping you in control whatever the weather.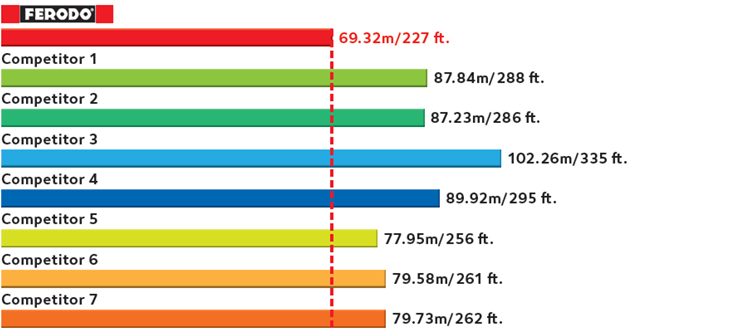 TEST PARAMETERS
Ferodo FDB4319 OE quality brake pads versus seven competitor products
This test was conducted by Federal-Mogul engineers at the MIRA proving ground independent test facility in the U.K.
Pads and discs in fully bedded condition
Water sprayed on road surface and brake disc
Wet coefficient of friction: 6 brake applications from 80 km/h to 0 km/h (50 to 0 mph)
Vehicle: Ford C-Max, front axle
Competitor testing conducted in Europe between 2010 and 2014 following European industry standards.